Be watchful, stand firm in the faith, act like men, be strong.
Our mission is to equip men through biblical studies, pastoral care, and mentoring opportunities through weekly connections. As CalvaryMac Men, our goal is to live out our faith in our homes, workplace, church, and community. To "live different," to live according to what God calls men to be, not what our culture says.
Men meet once a month via Zoom
to gather and pray over our families, wives, kids, grandkids, communities, country, world, and our own lives.
Register to get the invitation to the zoom meeting room.
Friday mornings men gather together to go through the "Better Man" series to seek to become the best men we can. While occasionally hearing testimonies from men within the church and community.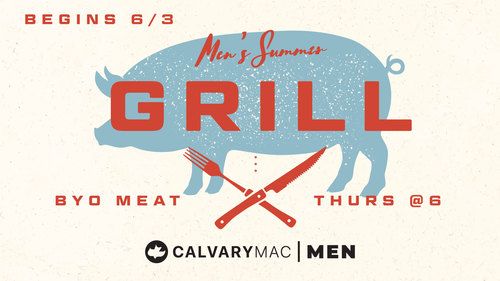 Brotherhood, meat, and games.
No agenda just meat and bros. Every Thursday evening at 6pm, BYO Meat and meet us at the Fire-pit for a great time of food, Cornhole, and a bunch of friends.
Don't fight the battle with pornography alone!
You are not alone. Find a 423 Group to fight alongside.
423 Communities is committed to finding a way out of the shame caused by sexual sin. You are not alone. We meet weekly for mutual support, accountability, and to honestly confess our utter dependence on Jesus Christ. You can share your story in a safe, confidential, and anonymous environment with other men or women who have achieved victory they never dreamed possible.
Click below to join a 423 Group here at CalvaryMac, or find a group near you.
We'd love to hear from you. Fill out the form below to get started.